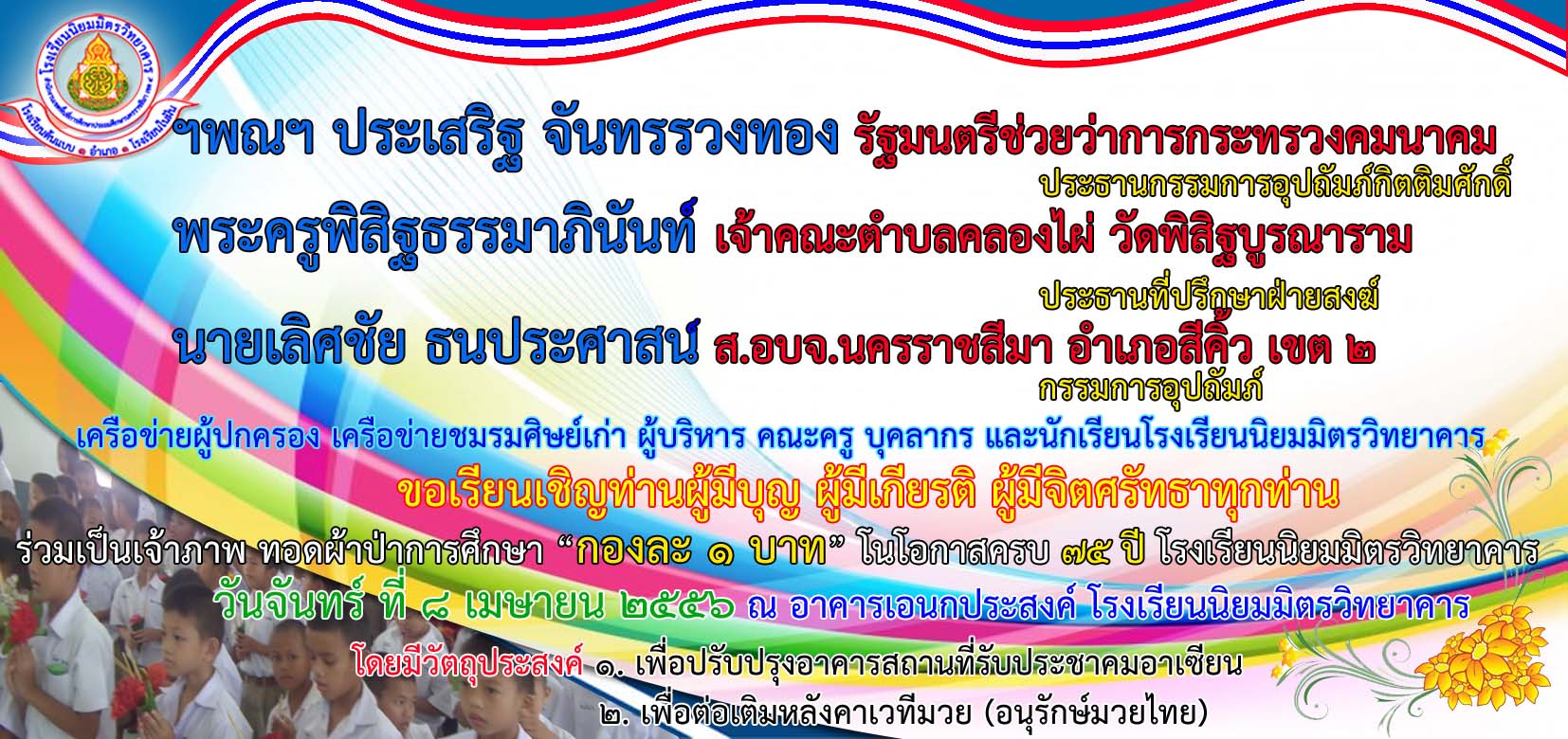 โรงเรียนนิยมมิตรวิทยาคาร ขอเชิญร่วมเป็นเจ้าภาพทอดผ้าป่าการศึกษา เพื่อจัดหารายได้ปรับปรุงโรงอาหาร และต่อเติมหลังคาเวทีมวย(อนุรักษ์มวยไทย) สำหรับนักเรียน ในวันจันทร์ ที่ 8 เดือน เมษายน พ.ศ. 2556 โดยมีกำหนดการ และรายละเอียดดังนี้ บัตรเชิญ
December 7th, 2012 the students of compete. Create kratong toop teanpear Phan level Mattayomsuksa 1-3 is the director of the school. And Deputy Director of the School Visit to encourage students and teachers.

More images...
School by Principal made MOU to level 1 Primary 's student about how to use and manage tablet pc (One Tablet Per Child) Images Gallery
September 26,2012 School made MOU to primary student's parent. student user tablet as a tool to learn hour a day for one semester and after that they can take tablet pc to home.
November 27, 2012 at the Niyommitwittayakarn School. Majesty of King Rama VI ceremony on the eve of Maha Tirarachaow. Because today is the day .... like the date of death of King Rama VI who gave birth to Scouts Thailand. The deputy director of the school, presided over the ceremony. Including Cub Scouts Girl Scouts Scout Reservation Boy Scouts of ordinary shares. Playlists. Scout ordinary version. And symposia with the Boy Scouts.Gallery

Korat Primary Education Service Area Office 4 Student Excellence fair. There are many competition event. Scout skill, Sudoku, A-math, mini book, YC and computer skill Gallery